Canon XA15 Professional Videocamera
A compact, professional Full HD camcorder with a powerful 20x optical zoom and wide dynamic range
Description
A compact, professional Full HD camcorder with high optical performance
This compact, lightweight camcorder is small enough to stow away yet agile and powerful to record news events with versatility thanks to a high quality HD CMOS Pro sensor, a superb 20x optical zoom with high zoom ratio and professional interfaces for connectivity into existing workflows.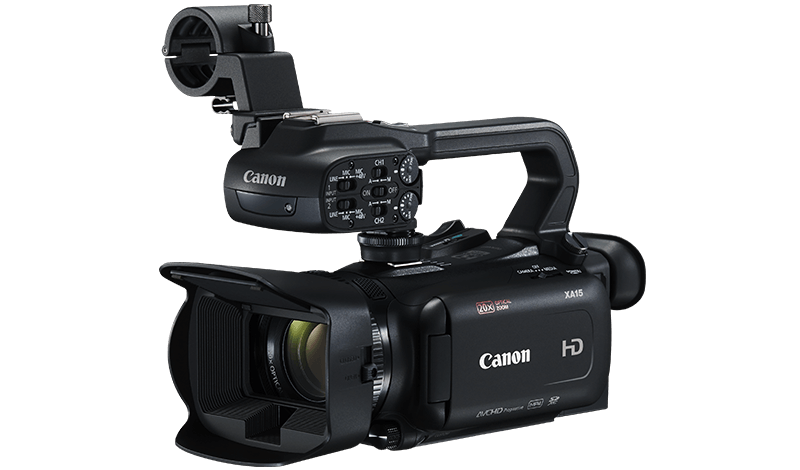 High optical performance
A Canon 20x optical zoom lens provides a highly versatile zoom range with the 35mm equivalent of 26.8-576mm. with an improved circular aperture, the XA15/XA11 can record more natural, beautiful images.
Stunning Full HD image quality
With Canon's HD CMOS Pro Sensor and the powerful DIGIC DV4 Image Processor with improved low-light performance, the XA15/XA11 captures superb Full HD video in 50P at 35Mbps with Wide dynamic range of 600%.
Professional recording options
The XA15/XA11 can record in both AVCHD and MP4 formats, at multiple bit rates, and even simultaneously.

Professional interfaces
The XA15 provides various interfaces including two XLR inputs for high quality audio, headphone jack, optional GPS support, HDMI terminal and an HD-SDI interface*
*XA15 only

Easy operability and compact design
With a compact and discrete body, the XA15/XA11 is ideal for high-action shoots when both speed and mobility are essential. It features 3.0-inch touchscreen, 1.56 million dot tiltable EVF and a switchable zoom/focus lens ring.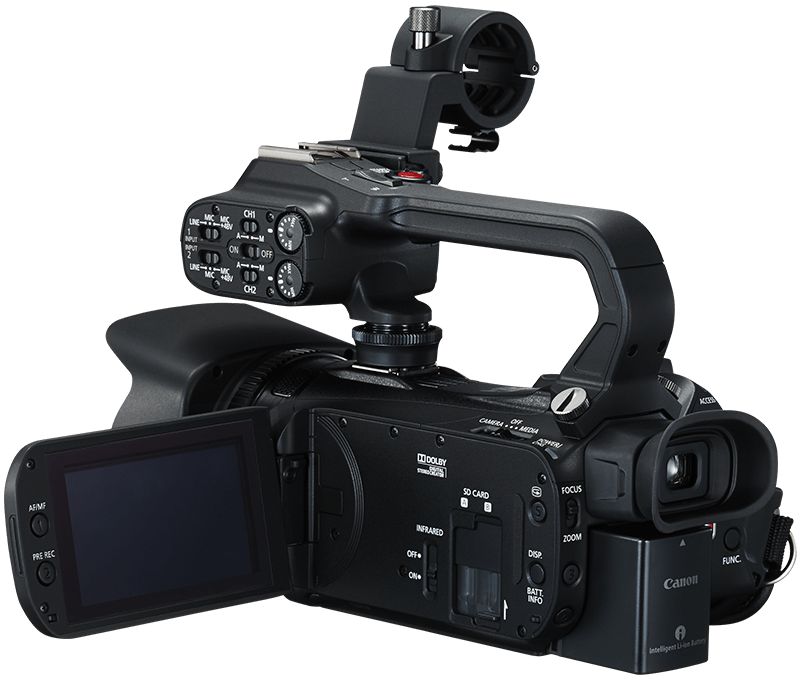 Technical Specs
Specifications in detail
Image Sensor
Sensor
1/2.84 inch type HD CMOS Pro
Filter
RGB Primary Colour filter (Bayer array)
Total Pixels
3.09 megapixels (2208 x 1398)
Effective pixels per sensor
2.91 megapixels (2136 x 1362)
Minimum illumination
Low Light Mode Approx. 0.1 Lx.
Auto Mode (Auto Slow Shutter selected Approx. 1.0Lx
Horizontal Resolution
900 TV lines (External via SDI, XA15)
Lens
Focal Length
3.67 – 73.4mm (35mm equivalent: 28.8 – 576mm) 1
Minimum focus distance
60cm (throughout zoom range);
10mm ( Wide MACRO setting)
ND filter
Built-in gradation ND filter
Zoom control
Zoom rockers on body and handle;
Selectable manual zoom/focus ring on lens;
Selectable High Speed and Soft Zoom modes available.
Zoom Speed
Zoom Rocker:
Variable speed/Fixed speed (Fast/Normal/Slow, 16 speed level settings available in each mode);
Grip zoom:
Fixed speed (Fast/Normal/Slow, 16 speed level settings available in each mode)
Zoom Ring: As operation speed
Focus control
Manual  control via focus ring, automatic (Instant AF, Medium AF, TV AF, Face Detection AF, Face Only AF), Push AF
Aperture blades
8 Blade Circular Aperture
Image stabilization system
Dynamic IS and Powered IS, 5 Axis image stabilisation
Digital zoom/Teleconverter
2 x Tele Converter, x400 Digital Zoom
Exposure Control
Exposure metering
Centre-weighted average metering: In the P, Av, Tv, Cinema, Portrait, Sports,
Low Light and IR modes
Segment evaluative metering: Snow, Beach, Sunset, Spotlight, Night modes
No metering: Fireworks; Fixed exposure [1/60 sec. (PAL: 1/50 sec.)],
M (manual exposure);
Exposure control
AUTO mode: Smart Auto,
Manual mode: P, Tv, Av, M (manual exposure), SCN (Portrait, Sports, Snow, Beach,
Sunset, Night, Low Light, Spotlight, Fireworks)
Cinema mode: P, Tv, Av, M
Exposure Compensation
± 12 steps, Displayed as EV value; 0  EV –  ±3.0 EV
Gain Control setting
Full Auto/AGC Limit/Manual
Auto Gain Control limit
In manual exposure (P, Av, and Tv modes): 0-24 dB (in 1 dB increments),
In the Cinema mode: 0-18 dB (in 1 dB increments),
In the Wide DR mode: 6-24 dB (in 1 dB increments)
Gain setting
During M (manual) shooting: The gain can be set in 1 dB steps from 0 dB to 24 dB.
In the cinema mode: The gain can be set in 1 dB steps from 0 dB to 18 dB.
When Image Effects is set to "Look" and Wide DR is set, the lowest sensitivity is 6 dB
Shutter
Control Modes
Full Auto / Manual control (Auto; Speed; Angle; Clear Scan (CS); Slow Shutter (SLS); IR Slow Shutter)
Shutter speed
1/6  to 1/2000 depending on frame rate and operating mode
Misc.
Stored Configurations
Cinema standard,  Vivid, Dream, Cool, Sepia, Old Movies, Memory
Wide DR, Highlight Priority
Colour Bars
YES (SMPTE or EBU), with 1KHz Tone (Tone via Audio Menu)
Recording
Video storage media
SD Card x 2
Dual Format recording, Double slot (simultaneous) recording and Relay (continuous) recording possible.
Type
SD card Class 4 or higher, Class 6 & 10 recommended for 35Mbps MP4 recording
Recording time
128GB SD Card:MP4: up to 8 Hours (50P @35Mbps)
AVCHD  up to 10 hours 10 Minutes (5p @28Mbps)
Recording format
AVCHD: 28/24/17/5Mbps
MP4:  35/24/17/9/3 Mbps;
All modes variable bit rate, 4:2:0 colour sampling
Recording frame rate (PAL model)
AVCHD:
28Mbps 50.00P,1920 x 1080, 24/17Mbps 1920 x 1080 50.00i/PF25
5Mbps 1440 x 1080  50i/PF25
MP4:
35Mbps 1920 x 1080: 50P
24/17Mbps 1920 x 1080:25P
8/4 Mbps   1280 x 720: 25P
3Mbps    640 x 360: 25P
Slow/Fast motion
YES (MP4 recording Only)
50.00P (35 Mbps) x2 17.5 Mbps
25.00P (24 Mbps or 17 Mbps) x0.5, x2, x4, x10, x20, x60, x120, x1200
Pre Record (cache record)
Scan Reverse
YES.  Vertical/horizontal/both
Audio
Recording
16-bit 4ch or 2ch (48 kHz) linear PCM
Control
Audio limiter, Auto/manual settings via control dials on handle
Still quality
During video recording: 1920 x 1080 in 1920 x 1080 or 1440 x 1080 mode,
1280 x 720; 1280 x 720 mode
During playback:  1920×1080
White Balance
Auto
New white sampling system FAWB. Settings include auto, set 1, set 2, colour temperature
setting and pre-set.
Preset
Six presets: [Daylight: approx. 5,400K], [Shade: approx. 8,000 – 8,500K],
[Cloudy: approx. 6,500K], [Tungsten (incandescent or halogen bulb): approx. 3,100K],
[Fluorescent H (3-wavelength fluorescent): approx. 7,000K],
[Fluorescent (white fluorescent): 5,000K]
Colour temperature
The colour temperature (Kelvin) setting ranges from 2,000K to 15,000K (in 100K steps).
WB cannot be selected in the SCN or AUTO mode. Auto adjustment range: 2,800K – 8,000K
Time code
Countup system
Regen, RecRun, Free Run, External, Hold
Start value setting
"00:00:00:00", Set/Reset selectable
Panel
Image quality adjustments
Focus Assist
Peaking; Magnifying; Edge Monitor (using  waveform display)
Markers
On/Off ; Level (White/Grey), and Grid (White/Grey)
Electronic View Finder (EVF)
Dots
approx. 1.56 million dots,
Inputs/Outputs
Audio in
x2 XLR Input on Handle Unit. Line, Mic or 48V Phantom Power), 3.5mm microphone input jack
USB
YES (Mini-B, USB 2.0 Hi-Speed, output only)
HD/SD-SDI output
YES, BNC, output only, Video, embedded audio and time code. (XA15 Only)
AV terminal
3.5mm mini jack (output only for video and audio)
Other Features
Custom Button Assignment
YES 5 Assignable Buttons. Select from: Powered IS / BLC Always On / Face Only AF / Video Snapshot / WB Priority / Pre Rec / IR Light / Audio Output CH / [AF/MF] /Rec Review / Rec.Programs / BLC Always On / White balance / AGC Limit / Focus / Exposure / Audio Scene / Mic level / Zoom / Image Stabilizer / Image Effects / [Off]
Custom Dial
Yes. Tv/Av/Manual exposure/AGC Limit/Exposure/Off
Supported Wi-Fi Functions
Supported Browser for Remote Operation
Remote Operation Control Features
Live view image Resolution
GPS Information (Optional Accessory)
Real-time display of Latitude, Longitude, Elevation, UTC and Satellite Reception
Accessories
Supplied
Lens hood with barrier, Mic holder unit (w/ screw), Handle unit (HDU-1), Compact power adapter (CA-570), AC cord , Battery Pack BP-820
Optionals
Canon Battery Pack BP-820 (supplied)/BP-828,Canon Compact Power Adapter CA-570 (supplied with XA15/XA11)
Canon Battery Charger CG-800E, Canon High speed HDMI cable HTC-100, Canon High speed HDMI cable HTC-100/ High speed HDMI cable HTC-100/S, Canon Stereo Video Cable STV-250N,Canon Interface Cable IFC-300PCU/S / IFC-400PCU, Canon Tele Converter TL-H58, Canon Wide Attachment WA-H58,
Canon Soft Carrying Case SC-1000, SC-2000, Canon Wrist Strap WS-20, Canon Shoulder Strap SS-600/650, Canon PROTECT Filter 58 mm, Canon ND4-L Filter 58 mm, Canon ND8-L Filter 58 mm, Canon GPS Receiver GP-E2
Canon Battery Video Light VL-10Li/VL-10LiII
Canon Battery Pack BP-900 series (for VL-10Li/VL-10LiII)
Canon Compact Power Adapter CA-910/920/930 (charges BP-900 series battery packs)
Canon Car Battery Adapter CB-910/920 (for charging the BP-900 series)
Power
Power Consumption
Max 4.9W (Approx.) MP4 recording, 35Mbps
Battery
BP-820(supplied)BP-828 (Optional)
Continuous Recording Time
MP4 recording, 35Mbps: 145 Minutes (BP-820); 220 Minutes (BP-828)(approx.)
Size and Weights
Dimensions
Approx. 131 x 180 x 231 mm (approx. 5.2 x 7.1 x 9.1 in.)
[Including lens hood, mic holder unit, and handle unit]
Weight (camera only)
XA15: Approx. 750 g (1.7 lb) XA11: Approx. 745 g (1.6 lb)
Weight (fully equipped)
XA15: Approx. 1140 g (2.5 lb)
XA11: Approx. 1135 g (2.5 lb)
Includes lens hood, mic holder unit, handle unit, BP-820, and 1 memory card
Operating Temperature range
Approx. -5 to 45°C, 60% (relative humidity)
Approx. 0 to 40°C, 85% (relative humidity)
All specifications subject to change without notice.
26.8mm – 576mm when wide view angle option selected.
In The Box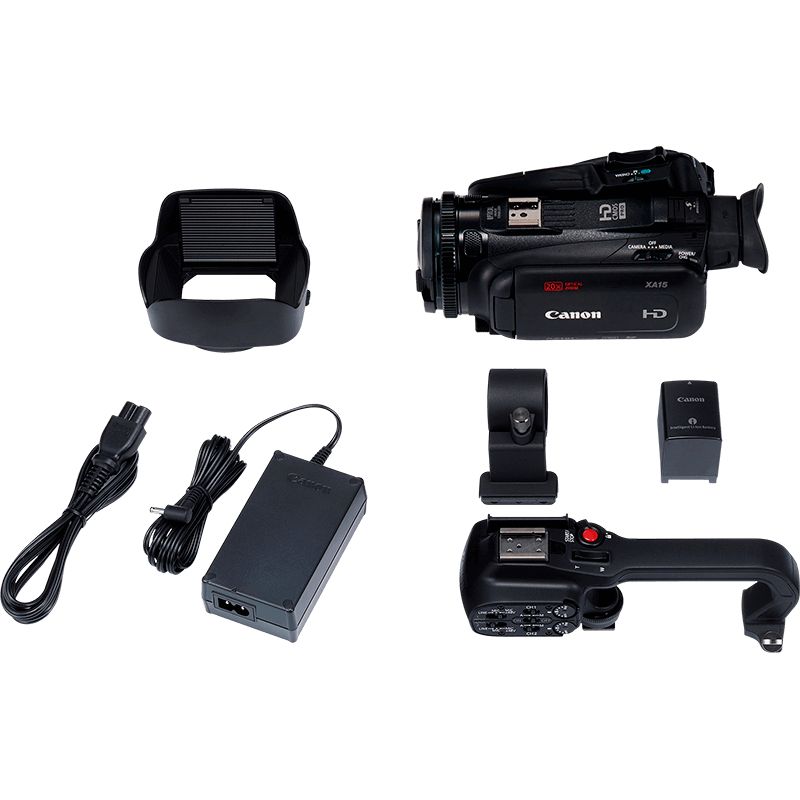 What's in the box
XA15/XA11
Handle Unit HDU-1
Lens Hood with Lens Barrier
Compact Power Adaptor CA-570
Mic Holder
Battery Pack BP-820